Winterizing Your Garage Door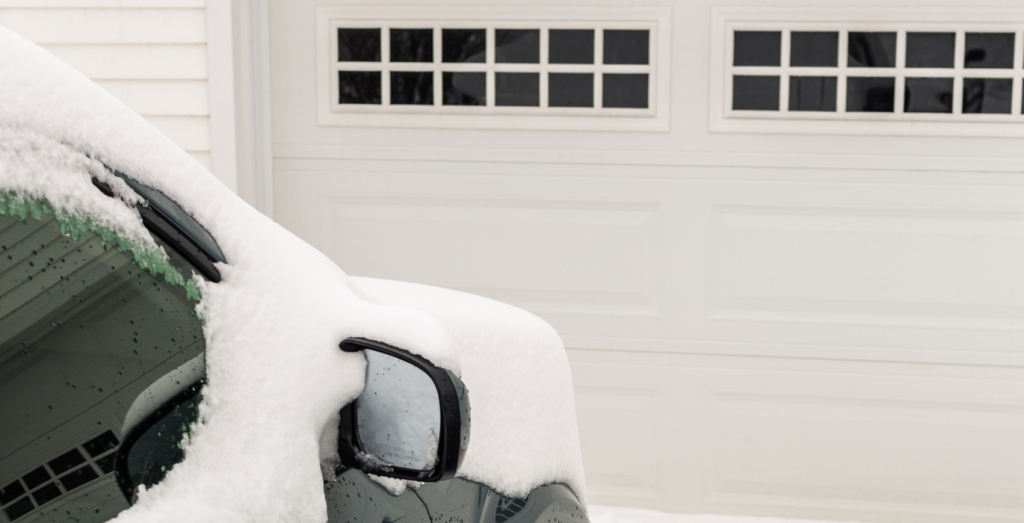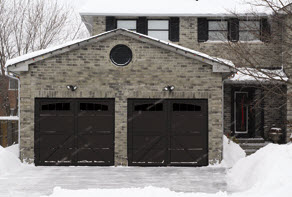 Your garage door is the biggest entrance to your house, making it a huge liability in the face of cold, harsh weather and a potentially huge drain on your energy efficiency. Make your garage door a priority on your list of winterizing projects this year. Let us help you with this quick guide!
Inspect Your Garage Door Seals
A garage door with failing bottom seal and all weather seal will let snow and ice blow in all over your garage, not to mention air infiltration. Examining this aspect of your garage door should be your first order of business.
Close your garage door and inspect it from the inside. Do you see any light shining through anywhere? Next, run your hand along the perimeter. Do you feel any air coming through? Make a mental note of any problem areas. Now open your garage door about halfway and inspect it from the outside. Do you see any rips or tears along the bottom seal (also called an astragal)? Examine the all-weather seal along the sides and top of the door. Any tears or gaps? If your door does not have a weather seal that should be a priority.
If the astragal needs to be replaced, open the door all the way. With newer garage doors, you can usually simply slide the astragal off the retainer and replace it with a new one, available at a home improvement stores or through your Overhead Door dealer. (Note it is important to make certain you purchase the appropriate seal…different door manufacturers produce different bottom seals) With older wood garage doors, the astragal may be nailed on – simply remove the nails and nail on a new one. Close the door and make sure no light or air is coming through.
Replacing all weather seal is a bit more involved, but doesn't usually need to be done as often as replacing the astragal (bottom seal). Again, all weather seal can be bought at any home improvement store or through your Overhead Door dealer and is available in many colors. Pick the one that matches the trim on your house. Pull off the existing weather seal with a hammer or crowbar. Measure the sides and top of the garage door opening, and cut the replacement seal down to size with a hacksaw. Then simply nail it into place. For a demonstration and more detailed instructions on how to replace weather stripping, check out this video.
Is Your Garage Door Insulated?
If your garage door isn't insulated, you would be money ahead to replace it with one that is. In modern homes the garage is usually attached to the house, and a huge amount of heat can escape through the garage door if it is not insulated or has a low R-Value.
Many online tutorial videos show how to insulate a non-insulated garage door by cutting pieces of insulation and gluing them onto the inside of the door. Not only is this unsightly and highly susceptible to rips and tears, but it's just generally an imperfect and ineffective insulation method. You can try it if you want, but save yourself the headache and the heating bill by getting an energy efficient insulated door from Overhead Door Company of Cedar Rapids and Iowa City!
Battery Check
Make sure to check the batteries in your remotes and keypad before winter. If you've been a homeowner for a few years and can't remember changing your garage door remote and keypad batteries, it's probably time to do so. Simply open the casing on the remote or keypad with a screwdriver, pull out the battery and replace with a new one (available at battery dealers or online). Overhead Door Company of Cedar Rapids and Iowa City offers Free Batteries for Life on Overhead Door brand remotes and keypads…You just have to bring the unit to our showroom.
The importance of winterizing the biggest entrance to your house cannot be over emphasized. No one wants high heating bills, snow or ice blown in the garage, or worse yet, stuck in your driveway in the rain and snow with a dead battery. Winterize now, and your garage door will turn in top performance and reliability all year long.
Winterize Your Garage Door Today!
For more information about garage door maintenance and winterizing, click here or call 319-363-9976 (Cedar Rapids) 319-338-9747 (Iowa City) or toll-free 800-393-9976 Monday thru Friday 8am to 5pm.