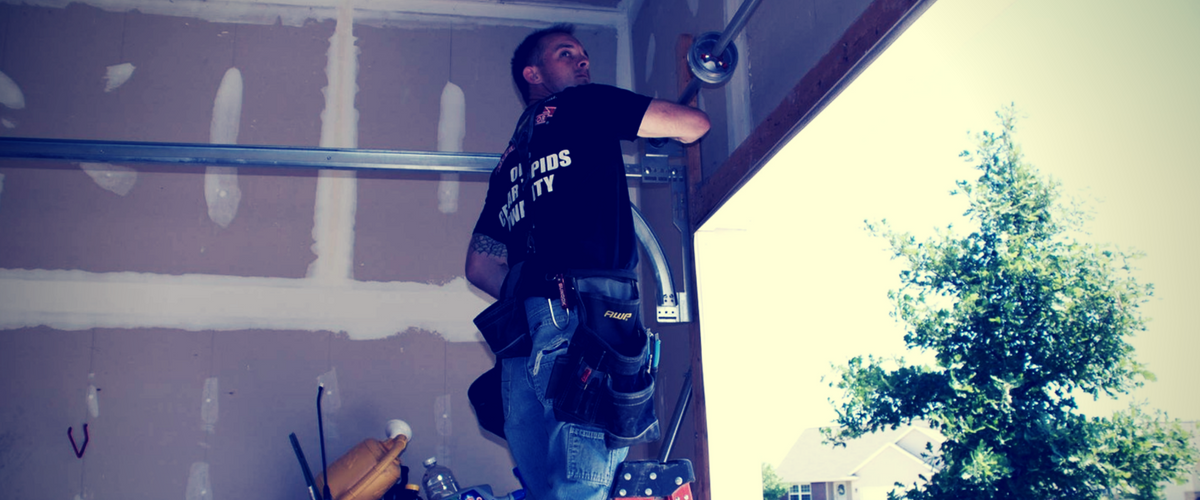 Almost all garage doors are raised and lowered with the power of an electric motor and assistance from heavy-duty springs. But what happens when one of the springs break, are becoming worn, or need to be adjusted? What can you do? We'll look at the life of a garage door spring and what to regularly keep an eye on.
Garage doors utilize two types of springs, torsion springs, and extension springs. Torsion springs are mounted on the wall directly above a garage door when it is in the down position and work based on energy created from a twisting motion. Extension springs are located above the upper horizontal tracks on both sides of a garage door.
Torsion Springs
Each day torsion springs endure extreme amounts of stress, yet they can last 4-10 years depending on how often the door is used. 10,000 cycles is a typical life of a torsion spring! Inevitably, these springs that are critical to the door's operation will wear out and may even break.
If a Torsion Spring Breaks:
Garage doors can be very heavy so avoid injury by leaving it as it is. Don't try to lift it. Aside from possibly injuring yourself, you also risk burning the garage door opener's motor out when lifting the door.
Contact a garage door professional right away. Replacing garage door components, especially torsion springs, requires specialized tools and techniques to ensure they are installed properly.
(Torsion) Spring Maintenance
There are a few ways to tell if your springs need to be adjusted or replaced, and it's easy enough to handle on your own. One of the most common adjustments that need to be made is re-balancing. Torsion springs can become unbalanced for a variety of reasons, which can result in uneven wear on parts, premature breaking, and mechanical failure.
Garage door professionals recommend customers have their torsion springs re-balanced within two years of being installed. Also, it's important to note springs that have been installed in cold-weather months need to be adjusted before the two-year mark. Annual lubrication of the torsion springs are also recommended (a rust inhibitor lubricant is best. Not WD 40).
Extension Springs
Garage door extension springs are mounted over each horizontal track of the garage door and counterbalance the weight of the door by providing resistance through the stretching of the springs. Since no adjustment can be made to extension springs, they must be replaced when they've worn out or have broken. The following points are simple ways to tell if it's time to replace your extension springs.
Replace the springs when:
You can visibly tell the spring is broken, cracked, chipped, or has any damage that can cause catastrophic failure.
 The springs have become overstretched, and gaps have formed between the rings.
The garage door lowers too quickly and has difficulty raising.
The motor is obviously laboring to raise the door.
The garage door is crooked when it's going up or down.
Testing Garage Door Balance
The door should stay in the upright position when released from the opener. (Some movement is okay, but it shouldn't fall below the horizontal track)
Position the door halfway up. It should stay in place.
Failing these two tests means the door is out of balance and requires an adjustment.
The most important takeaway from the information above is to call a garage door professional when you think there's an issue with your system. Garage door springs can be very dangerous, even deadly, if installed by a non-professional.
In today's market you can find garage doors in all sorts of materials, styles, sizes and colors. This opens the door (no pun intended) to some great design opportunities to compliment your home. Whether you're looking to add some personality or charm to your property, opting for a quicker sell, or just improving the function and protection of your home, an upgrade to your garage door's style and color will likely do the trick. Here's a checklist to help you unlock hidden potential:
Select the Material
A crucial part of your garage door decision should lie in the functionality of the door and protection from outdoor weather and intruders. Safe to say, garage doors offer a variety of solutions depending on your needs. So consider the following:
What sort of climate do you live in?
For properties with colder climates and winter, consider an energy efficient insulated door.
What is the exterior of your home made of?
When considering the material of your garage door, choose materials that are complimentary to the rest of the home. For instance, if your home has a lot of stone detail, consider wooden doors or maintenance free metal options with a wood grain finish. Homes with flat or stucco finishes might consider a modern, aluminum door. Homes with siding will generally work with most materials, while color and design will play a larger role.
Safety and Security precautions to consider: 
New automatic opener systems such as the Overhead Door Odyssey 1000, feature the latest in safety and security technology for families with pets and children. The opener has Rolling Code technology, a super quiet DC motor and comes belt or chain driven.
Match the Design
Once you've chosen one or two materials to work with you can start looking into your design options. If you're designing for an attached garage, this is where it can get tricky. When choosing a garage door, the design of the door should fit the design of the home. For better visualization use tools like our Overhead Door Design Center to upload a picture of your home and match different door styles.
For modern homes like the one featured above, choose a door with strong lines that move in the same direction as the other exterior features. In this case, sleek aluminum doors with light filtering glass compliment the home's look. View more examples of modern garage doors.
Steel and wooden doors offer both minimal and ornate variations that draw in the level of attention you want. View some examples of Custom Wood door designs.
Accent with Color
Whether you're drawing attention to or trying to blend in, don't overlook the power of color on your doors. This is where a little planning goes a long way. If you're looking to minimize the appearance of the garage, painting the doors the color of your siding is often your best bet. This reduces the visual attention seen from the street. If you want to give the doors a bit more character, choose a door that allows for an accent color (light colors are almost always better). A little pop of white or a light accent color can draw attention to a beautiful design. Traditional white or natural wood grain will likely draw the most attention depending on the style and color of the home.
Enhance with Accessories
Some understated accessories and accents can add a lot of charm to your doors and distinguish them from your neighbors. Here are a few accessories to consider:
Adding painted trim around the door can define your door space with little work.
Doors that come with accent trim can add additional character and design to fit your house's style.
Windows add contrast and detailing to your doors while letting natural light into the space of your garage and almost always add value to your home.
Decorative hinges and handles add charm and detail to carriage style doors.
So there you have it. Keeping these four areas in mind will help you choose a complimentary door for your garage and add to your curb appeal. Check out our residential door gallery for more styles and examples or Overhead Door's Design Center to get started customizing your own doors.