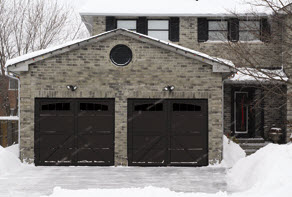 Your garage door is the biggest entrance to your house, making it a huge liability in the face of cold, harsh weather and a potentially huge drain on your energy efficiency. Make your garage door a priority on your list of winterizing projects this year. Let us help you with this quick guide!
Inspect Your Garage Door Seals
A garage door with failing bottom seal and all weather seal will let snow and ice blow in all over your garage, not to mention air infiltration. Examining this aspect of your garage door should be your first order of business.
Close your garage door and inspect it from the inside. Do you see any light shining through anywhere? Next, run your hand along the perimeter. Do you feel any air coming through? Make a mental note of any problem areas. Now open your garage door about halfway and inspect it from the outside. Do you see any rips or tears along the bottom seal (also called an astragal)? Examine the all weather seal along the sides and top of the door. Any tears or gaps? If your door does not have all weather seal that should be a priority.
If the astragal needs to be replaced, open the door all the way. With newer garage doors, you can usually simply slide the astragal off the retainer and replace it with a new one, available at a home improvement stores or through your Overhead Door dealer. (Note it is important to make certain you purchase the appropriate seal…different door manufacturers produce different bottom seals) With older wood garage doors, the astragal may be nailed on – simply remove the nails and nail on a new one. Close the door and make sure no light or air is coming through.
Replacing all weather seal is a bit more involved, but doesn't usually need to be done as often as replacing the astragal (bottom seal). Again, all weather seal can be bought at any home improvement store or through your Overhead Door dealer and is available in many colors. Pick the one that matches the trim on your house. Pull off the existing weather seal with a hammer or crowbar. Measure the sides and top of the garage door opening, and cut the replacement seal down to size with a hacksaw. Then simply nail it into place. For a demonstration and more detailed instructions on how to replace weather-stripping, check out this video.
Is Your Garage Door Insulated?
If your garage door isn't insulated, you would be money ahead to replace it with one that is. In modern homes the garage is usually attached to the house, and a huge amount of heat can escape through the garage door if it is not insulated or has a low R-Value.
Many online tutorial videos show how to insulate a non-insulated garage door by cutting pieces of insulation and gluing them onto the inside of the door. Not only is this unsightly and highly susceptible to rips and tears, but it's just generally an imperfect and ineffective insulation method. You can try it if you want, but save yourself the headache and the heating bill by getting an energy efficient insulated door from Overhead Door Company of Cedar Rapids and Iowa City!
Battery Check
Make sure to check the batteries in your remotes and keypad before winter. If you've been a homeowner for a few years and can't remember changing your garage door remote and keypad batteries, it's probably time to do so. Simply open the casing on the remote or keypad with a screwdriver, pull out the battery and replace with a new one (available at battery dealers or online). Overhead Door Company of Cedar Rapids and Iowa City offers Free Batteries for Life on Overhead Door brand remotes and keypads…You just have to bring the unit to our showroom.
The importance of winterizing the biggest entrance to your house cannot be over emphasized. No one wants high heating bills, snow or ice blown in the garage, or worse yet, stuck in your driveway in the rain and snow with a dead battery. Winterize now, and your garage door will turn in top performance and reliability all year long.
Winterize Your Garage Door Today!
For more information about garage door maintenance and winterizing, click here or call 319-363-9976 (Cedar Rapids) 319-338-9747 (Iowa City) or toll-free 800-393-9976 Monday thru Friday 8am to 5pm.
In today's market you can find garage doors in all sorts of materials, styles, sizes and colors. This opens the door (no pun intended) to some great design opportunities to compliment your home. Whether you're looking to add some personality or charm to your property, opting for a quicker sell, or just improving the function and protection of your home, an upgrade to your garage door's style and color will likely do the trick. Here's a checklist to help you unlock hidden potential:
Select the Material
A crucial part of your garage door decision should lie in the functionality of the door and protection from outdoor weather and intruders. Safe to say, garage doors offer a variety of solutions depending on your needs. So consider the following:
What sort of climate do you live in?
For properties with colder climates and winter, consider an energy efficient insulated door.
What is the exterior of your home made of?
When considering the material of your garage door, choose materials that are complimentary to the rest of the home. For instance, if your home has a lot of stone detail, consider wooden doors or maintenance free metal options with a wood grain finish. Homes with flat or stucco finishes might consider a modern, aluminum door. Homes with siding will generally work with most materials, while color and design will play a larger role.
Safety and Security precautions to consider: 
New automatic opener systems such as the Overhead Door Odyssey 1000, feature the latest in safety and security technology for families with pets and children. The opener has Rolling Code technology, a super quiet DC motor and comes belt or chain driven.
Match the Design
Once you've chosen one or two materials to work with you can start looking into your design options. If you're designing for an attached garage, this is where it can get tricky. When choosing a garage door, the design of the door should fit the design of the home. For better visualization use tools like our Overhead Door Design Center to upload a picture of your home and match different door styles.
For modern homes like the one featured above, choose a door with strong lines that move in the same direction as the other exterior features. In this case, sleek aluminum doors with light filtering glass compliment the home's look. View more examples of modern garage doors.
Steel and wooden doors offer both minimal and ornate variations that draw in the level of attention you want. View some examples of Custom Wood door designs.
Accent with Color
Whether you're drawing attention to or trying to blend in, don't overlook the power of color on your doors. This is where a little planning goes a long way. If you're looking to minimize the appearance of the garage, painting the doors the color of your siding is often your best bet. This reduces the visual attention seen from the street. If you want to give the doors a bit more character, choose a door that allows for an accent color (light colors are almost always better). A little pop of white or a light accent color can draw attention to a beautiful design. Traditional white or natural wood grain will likely draw the most attention depending on the style and color of the home.
Enhance with Accessories
Some understated accessories and accents can add a lot of charm to your doors and distinguish them from your neighbors. Here are a few accessories to consider:
Adding painted trim around the door can define your door space with little work.
Doors that come with accent trim can add additional character and design to fit your house's style.
Windows add contrast and detailing to your doors while letting natural light into the space of your garage and almost always add value to your home.
Decorative hinges and handles add charm and detail to carriage style doors.
So there you have it. Keeping these four areas in mind will help you choose a complimentary door for your garage and add to your curb appeal. Check out our residential door gallery for more styles and examples or Overhead Door's Design Center to get started customizing your own doors.
Plants and Lawn Care
This probably goes without saying, but a green, well-groomed lawn is crucial to curb appeal. Beyond the exterior color and condition of your home, the state of your lawn is likely the next noticeable feature. Mow regularly and patch up any dry areas with some water and a little TLC. If water drainage is an issue for your lawn, install a rain garden in troubled areas to absorb the excess moisture (plant-types may vary depending on area).
Plants and flowers can also make a statement about the look of your lawn (good or bad). Avoid an abundance of plants or overbearing sizes that can make your lawn look full or unkept. Keep plants well-groomed and watered for a fresh looking lawn.
Don't have the time for regular up-keep? Consider adding low-maintenance shrubs and plant life to add an instant boost of contrast to the look of your lawn.
Accent Colors
If your exterior paint color is still in good shape but lacking a finished look, pull it together with an accent color or a contrast tone in small areas like the exterior trim, front door or plant holders and boxes. This relatively quick and easy fix can add a lot of bang without breaking your budget.
Replace Your Garage Door
Just because your garage door has a lifetime warranty, doesn't mean it's style does. If your door detracts from the rest of your home and lawn, consider updating. Newer models, such as Overhead Door's Courtyard Collection offer energy efficient and aesthetic features that can add visual appeal and reduce seasonal costs to your home. Check out Overhead Door's line of modern steel, wood and aluminum garage doors that are beautifully crafted and offer a signature look to your garage and your home.
Define a path to your door
If your house is missing a sidewalk or your paved garage entrance is leading people to the wrong door, create an path using stone or pavers to guide people to the preferred entrance. If you already have a defined pathway but desire something more, consider adding shrubs, flowers or lighting to the path. Doing this will define a path that visitors will take notice of and use.
Exterior Lighting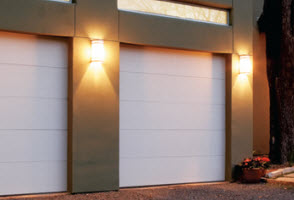 Add warmth and welcome to your home by adding outdoor lighting. The entranceways above exterior doors are a great place to start and can be relatively inexpensive. Consider the style of your home when choosing light fixtures (recessed vs hanging vs wall styles) and how you would like them to work (sensor vs switch).
Lining the entrance to your door is a great way to help visitors enter and exit your home. Try a solar solution for long-term savings.
Finally any patios or places that you spend leisure time can also benefit from lighting. In these areas low or accent lighting may be preferred.