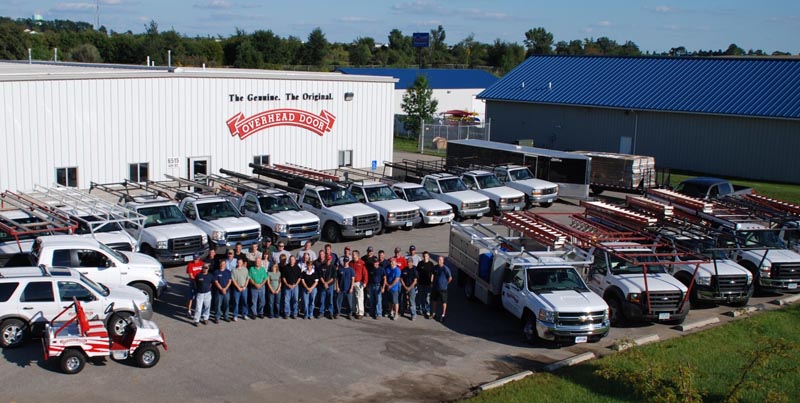 OVERHEAD DOOR
Where are your showrooms?
Map and driving directions to our showrooms are available, CLICK HERE
Can I talk to a sales person?
Sure. Our showroom has an experienced and knowledgeable sales person waiting to answer your calls.
Do you take credit cards or personal checks?
Sure. We gladly accept cash, checks, MasterCard, Visa and Discover credit cards.
Do you have any coupons?
Check the Promotions section of our website.
What is your Warranty?
New doors and motor operators are covered by a minimum one year warranty on material and workmanship. Several door and operators have extended material warranties beyond the first year. Service and repair work warranties are 90-days on parts and 30-days on labor.
What is your fax number?
319-363-4761
Are you hiring now?
Check the Employment section of our website!
---
GARAGE DOORS
I'm thinking of building a new home. When should I contact you?
The sooner the better. We can help you select which products are best for you and help you with the dimensions
I'm interested in matching the color of my trim to the color of my new Garage Door. How do I go about painting my new Steel Garage Door?
For Instructions CLICK HERE.
My garage door won't go up. What's wrong with it and what should I do?
You most likely have a broken torsion spring. We have a blog article that talks about the different types of broken springs and what you should do for each.
---
DOOR OPENERS
What type of operators do you offer?
Check the Residential > Openers section of our website which you can access from the list on the left.
Is there a troubleshooting guide for my Overhead Door operator on the website?
There are too many types and models of door operators to list them here. Please feel free to contact our parts department at 800-393-9976 for further assistance.
My transmitter will open the door, but when I try to close the door it only goes about 6 inches and then reverses. What is wrong?
There are a few possible problems that might prevent your door from closing after you have opened it. Most commonly, the photo cells are out of alignment or there is an obstruction in the way of the photo cell safety beam.
How do I reset my operator?
Although most operators do not have a reset button on them, it sometimes helps to unplug the unit, wait 60 seconds, and plug it back in (sometimes this will allow the internal computer chip to re-cycle itself).
Can I change the code on my keypad?
Yes, CLICK HERE to find your keypad and detailed instructions on how to reset your code. If your keypad is not pictured, call our Service Department!
I think I need a new receiver for my garage door opener. Is this a do-it-yourself project?
If you are comfortable working from a ladder, it may be possible to replace your receiver and transmitters yourself. There are a few exceptions, so please call or email us for up-to-date information.
Can I buy a new clicker/remote at your shop?
Yes. We carry an extensive selection of transmitters for garage doors openers. If your transmitter is no longer supported by the original equipment manufacturer, we can usually provide an after-market alternative.
Will you mail a new remote to me?
Sure. We can ship a new transmitter (or any other parts) to any address.
---
SERVICE AND SUPPORT
What kind of doors and operators do you repair?
We repair all brands of residential and commercial doors and motor operators.
How soon can I have service?
Due to the influx of service requests as a result of the Derecho, we ask that you call our office to get an accurate timeframe for when we'll be able to complete your project.
Do you have service available on Saturday and Sunday?
Yes we have 24 hour emergency service, 7 days a week.
Can I talk to a technician over the phone?
Our service technicians are out in the field repairing doors and operators and unfortunately they are not available to take a phone call. Please try your question on our parts department employees at 800-393-9976
Do the technicians carry the parts I may need on their trucks?
Our service trucks stock a large number of parts for all brand of equipment. It is quite possible that we will have the part you need without making a second trip.
What is included in a Tune-up Special?
The tune-up special includes complete inspection and lubrication of all moving parts (i.e. springs, rollers, hinges, cables, pulleys, drive mechanisms) on up to two single car doors or one double car door, and the attached motor operators. Also included is any adjustments needed and tightening of any loose hardware. Replacement parts and accessories are available at an additional cost.
I know you give free estimates on new/replacement doors and openers. How about estimates on service?
Due to the fact that service and repair work involves a site inspection by a qualified field technician, we do charge a minimum service fee to diagnose equipment problems.