Residential Garage Door Accessories
These quality optional garage door accessories, which complement your garage door opener, are engineered with your convenience in mind. Each accessory features something different to help you enjoy your new Overhead Door opener or garage door system to the fullest. Add-on garage door accessories are compatible with products that feature the CodeDodger® Rolling Code Access Security System.
Remotes
CodeDodger 2 03T
The sleek design of this Overhead Door Three Button Remote features three push buttons to allow for easy operation of up to three garage doors. This remote is designed to work with CodeDodger® 2 technology, however can be programmed to operate any CodeDodger® enabled garage door opener.
Auto Seek Frequency Range – this remote is designed to communicate with the garage door opener by automatically seeking either the 315 or the 390 frequency, helping to ensure opener will respond regardless of nearby frequency interference.
CodeDodger® 2 Access Security System - the CodeDodger® 2 system features advanced technology that prevents piracy of the radio signal that opens your garage door by selecting a new code from billions of combinations.
Wall Consoles
Series 3 OCWC
The sleek design of this Overhead Door Wall Console features large push buttons to allow for easy garage door operation as well as convenient control of the opener's lighting. The Sure-Lock™ feature provides safety and security when residents' are away from home for extended periods of time by disabling remote transmitters and wireless keypad operation when activated. It is easily activated and deactivated with a push of a button from the wall console. This product allows for easy wall-mount installation.
Wireless Garage Door Keypads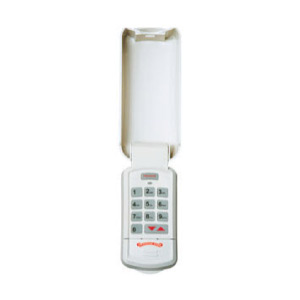 OKP-BX
Entry to your home is even easier with a Digital Wireless Keypad from Overhead Door. No need for remote controllers or keys. The Overhead Door Digital Wireless Keypad provides secure door entry for up to three Overhead Door garage door openers.
Our new flip-up cover design is made from a tough, weather-resistant plastic that includes an ultraviolet (UV) additive to protect against sunlight damage. The cover can be easily removed without tools and movement of the cover does not activate the keypad; eliminating the chance of the battery being drained prematurely.
Our Digital Wireless Keypad comes with a larger keypad size with easy to read lighted buttons. The keys are fully illuminated for greater visibility. The color-coded program button has been moved away from the numeric buttons to minimize unintended activation.
This model has a convenient indicator light that alerts homeowners of a low battery. The Digital Wireless Keypad requires a 9-volt battery which is included. The battery compartment features a unique "Triple Lock" design for secure battery retention. The keypad stays programmed during battery change; no need for reprogramming.
Garage Door Saftey Sensors
STB-BL
The Self-Diagnostic Safe-T-Beam®System alerts homeowners of improper installation or malfunctions with its new self-diagnostic feature. With this system, a closing door will be reversed automatically when objects pass through its infrared beam.
Plus, by using its red and green LED indicators, our new system will send a self-diagnostic code to help you quickly identify problems and solutions.
Six-part Safety Package includes:
Safe-T-Beam® auto reversing system incorporating infrared beam and LED diagnostic lights
Contact reverse feature stops and reverses door within two seconds of contact
Timed reverse stops and reverses door if it fails to close in 30 seconds
Adjustable electronic force sensitivity control
Relay switch monitoring stops and reverses door if a control relay switch malfunctions
STB monitoring system stops and reverses door if Safe-T-Beam® system malfunctions